Make Your Own Cutting Board – Introduction to Woodworking
January 25, 2024 @ 6:00 pm

-

9:30 pm

$125.00 – $135.00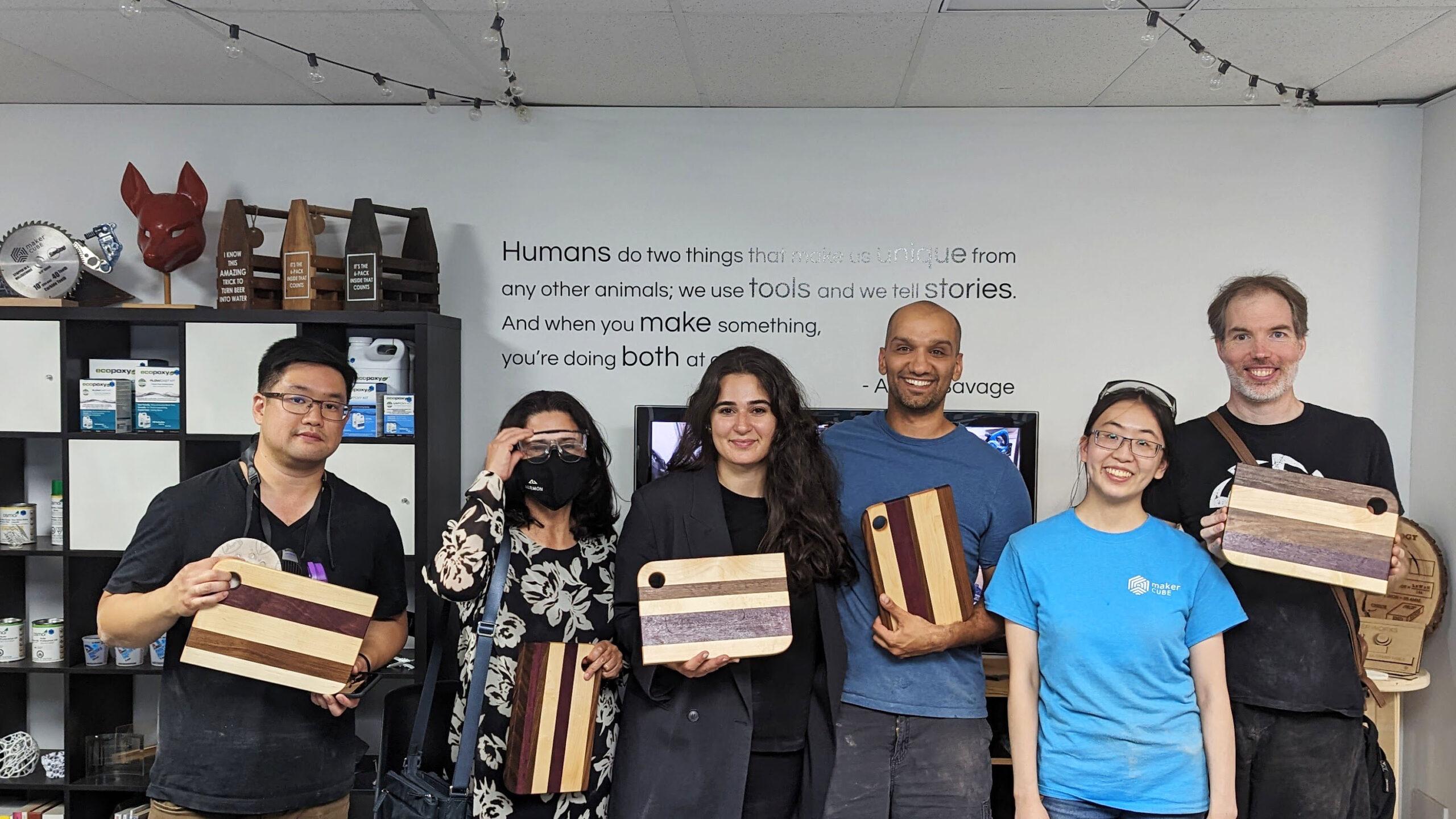 Learn How to Create Your Own Beautiful Maple, Purpleheart, and Walnut Cutting Board!
This beginner-level workshop will teach you the basics of woodworking, including safe handling of common tools. Besides learning tool safety, you'll leave with an 8 x 12 inch cutting board that you made yourself. Join us if you're looking for a fun and creative way to unwind after work! During this workshop you will learn how to work with hardwood, glue joints, use power tools safely, and shape your project.
Duration: 3.5 hours – please arrive 15 minutes before the start time to participate.
6:00pm – 9:30pm on weekdays (please note: depending on the participants, the class may run late and exceed 3.5 hours)
Maximum # of Participants: 6
Project: Eastern Maple, Purpleheart, & Black Walnut Cutting Board
Difficulty: Beginner
Age: 14+
**Please note registration closes 24 hours prior to class**
Come to our workshop if:
You're looking for a different way to unwind after work
You want to be a part of a community of creatives
You love challenging yourself by learning new skills
Skills Learned:
You will learn how to work with hardwood, glue up joints, using power tools safely, shape and sand, and then apply a food safe finish.
Class Goals:
By the end of the class, participants will be comfortable with the operation of various power tools including a drill press, band saw, miter saw, belt and spindle sander, and random orbit sander. All participants will be introduced to general woodshop safety and Maker Cube culture. During the class, everyone will learn about each tool, and get the opportunity to demonstrate their competency on each tool, by making their own cutting board. After this class, you will be authorized to use the tools independently as a member of Maker Cube at the discretion of the instructor. Please note, that based on attendance, this tool training may not provide significant practice with each tool, nor discuss any intermediate or advanced techniques. 
Not a member? If you love the class and want more shop time we offer great incentives for new members on the day of the workshop.
Click here to learn more about membership at Maker Cube.
Safety First
General attire requirements:
Safety Glasses (If you do not have your own PPE, eye protection will be provided, or you can buy a pair of safety glasses at the front counter. )
Mask (if you have sensitivities to sawdust/airborne dust)
Closed-toe shoes
Long hair tied back
No loose jewelry or cords
No long sleeved shirts or loose clothing
What is the age limit for the class?
The minimum age for participants is 14. Participants under the age of 18 must have a parent or guardian provide supervision during the class.
Where can I park?
Maker Cube's parking lot has ample space available. Should the lot reach capacity, there is additional street parking along 206A St.
How do I cancel or reschedule a class?
Refunds or credit for future classes will only be provided if we are notified by email to [email protected] at least 24 hours in advance of the class. No refunds will be provided for late cancellation, and a re-booking fee of 50% of the cost of the class will be applied to reschedule a class.
Processing fees not refunded.
Please arrive 15 minutes before the class for sign-in and to ensure it starts on time. Those arriving more than 5 minutes late will not be able to attend. In the event of low registration, the class will be canceled and participants registered will be rescheduled to an alternate class date.
Related Events