Rough to Smooth – Advanced Woodworking
December 5 @ 6:00 pm

-

9:00 pm

$125.00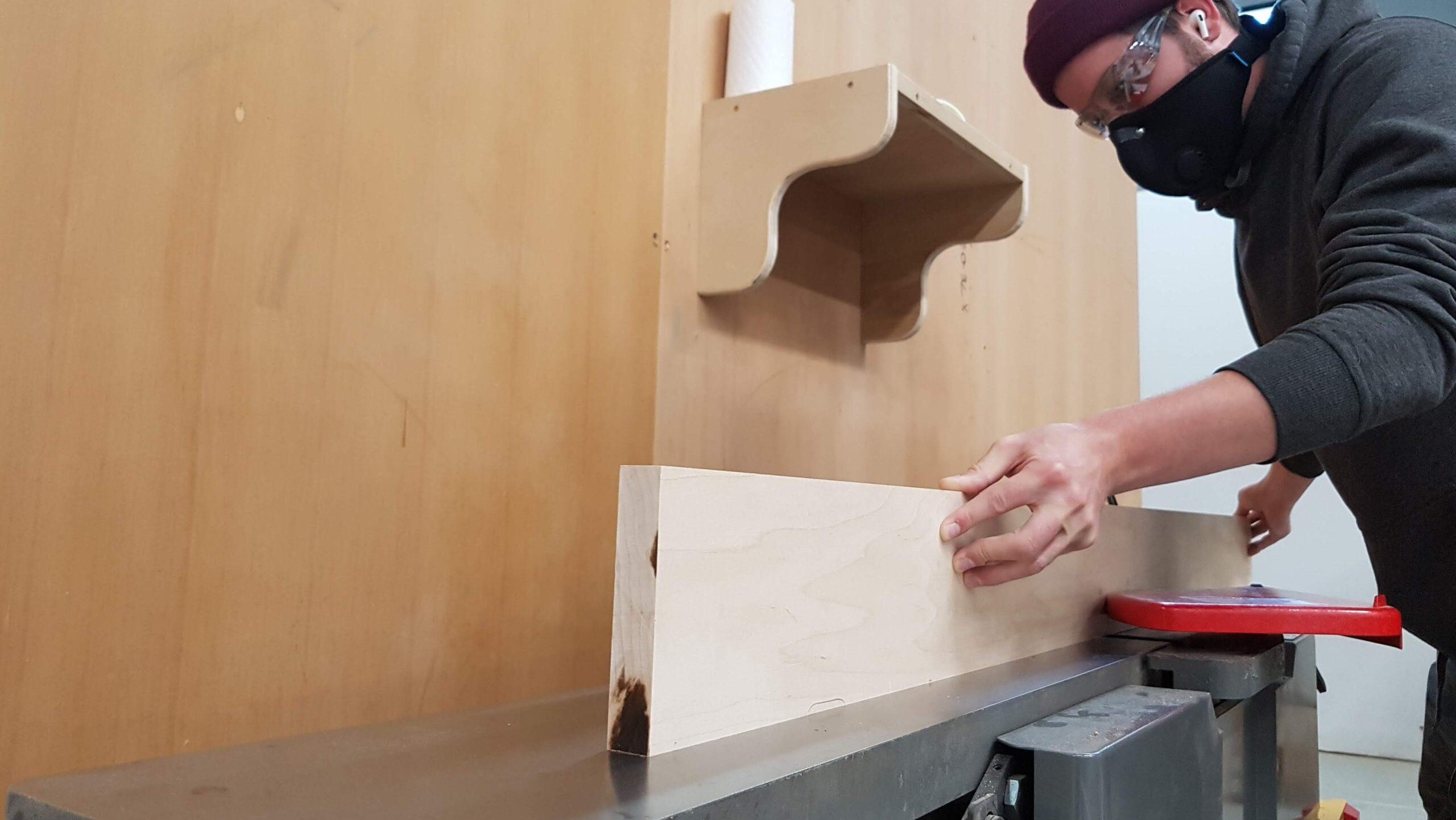 Unlock the secrets of milling rough lumber for woodworking projects! Learn to identify wood grain and structure for optimal results and safety.
For Beginners: Don't be intimidated. Our instructors have been in your shoes and will work hard to make sure you have a great experience.
For Experienced Makers:  Orientation classes are mandatory for all tool areas but there's no reason why you can't have a good time. Let us challenge you with a new technique or help you brush up on the basics.
Project: Milling down rough lumber
Difficulty: Intermediate
Prerequisite: Intro to Wood Working Class You must take the introductory class prior to taking the Advanced class.  Click here to view upcoming Intro to Woodworking classes
Age: 14+
Duration: 3.5 hours – you must arrive 15 minutes before the start time to participate. The class will start as scheduled, please be respectful to the instructor and other participants by arriving on time.
**Please note registration closes 24 hours prior to class**
Come to our Woodworking workshop if:
You want to enhance your wood working projects
You like precision in your craftsmanship
You want to have access to more tools
Skills Learned: How to mill rough lumber for use in woodworking projects. Identifying wood, it's grain, and structure to ensure the best and safest results.
During the class, you will learn and demonstrate competency with each tool. Members will be authorized to use the tools independently as members of Maker Cube at the discretion of the instructor. Please note that based on attendance this tool training may not provide significant practice with each tool, nor discuss any intermediate or advanced techniques. 
Not a member? If you love the class and want more shop time we offer great incentives for new members on the day of the workshop.
Click here to learn more about membership at Maker Cube.
Safety First
Required:
Safety Glasses (participants must bring their own eye protection, if they do not have eye protection a pair of safety glasses can be purchased at Maker Cube's front counter)
Closed-toe shoes
Long hair tied back
No loose jewelry or cords
No long sleeved shirts or loose clothing
About the Instructor:

Adam Ali, Director and Co-founder at Maker Cube
Adam is the true definition of a Maker with experience ranging from upholstery to machining exhaust fittings for light aircraft. He has been tinkering for as long as he can remember and fondly recalls spending summers with his dad and brothers building tree forts, soapbox racers, and bike ramps. Their favorite project? An epic two-floor pallet wood treehouse complete with lights, windows and (of course) a secret escape hatch. He followed his passion through school taking as many courses as he could in woodworking, metal fabrication, music production, and media arts. For the past 10 years, Adam has built skillsets in many disciplines with his favorite being custom car audio fabricator. Adam's approach to design and making often comes from a need to solve problems that don't have commercially available solutions.
FAQs
What is the age limit for the class?
The minimum age for participants is 14. Participants under the age of 18 must have a parent or guardian provide supervision during the class.
Where can I park?
Maker Cube's parking lot has ample space available. Should the lot reach capacity, there is additional street parking along 206A St.
How do I cancel or reschedule a class?
Refunds or credit for future classes will only be provided if we are notified by email to [email protected] at least 24 hours in advance of the class. No refunds will be provided for late cancellation, and a re-booking fee of 50% of the cost of the class will be applied to reschedule a class.
Processing fees not refunded.
Please arrive 15 minutes before the class for sign-in and to ensure it starts on time. Those arriving more than 5 minutes late will not be able to attend. In the event of low registration, the class will be canceled and participants registered will be rescheduled to an alternate class date.
Related Events